For the most part, endorsement deals are negotiated individually with each player and reflect the influence a given athlete has in terms of his fan base, marketability, and success on the court. Endorsement revenue typically ranges from $200-500k per year for rookies to millions for star players such as LeBron James or Steph Curry. For example, according to Forbes Magazine, in 2015, LeBron James earned more than $50 million from endorsement deals alone.
Five Players Making The Most Out Of Endorsement Deals:
LeBron James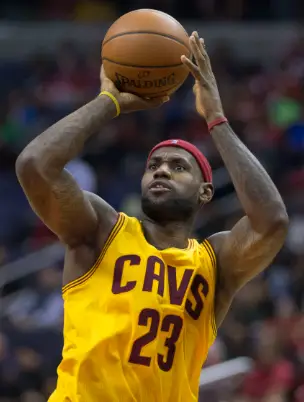 LeBron James is one of the best basketball players of all time, and it shows in his endorsement deals. He signed a lifetime deal with Nike worth $70 million – making him the highest-paid endorser ever. A study by Forbes reported that 64 percent of LeBron's total yearly income comes from endorsements alone.
Kevin Durant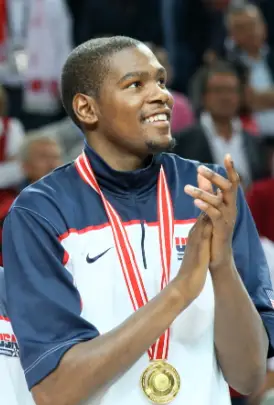 Kevin Durant has earned almost $48 million in endorsements since 2013. This accounts for an impressive 55.1 percent of his yearly income – a clear indicator that he knows how to make his money work for him. His portfolio includes partnerships with companies like BBVA Compass Bank and Nike Jordan Brand, which have given him attractive opportunities to increase his profile in and out of basketball court settings.
Stephen Curry: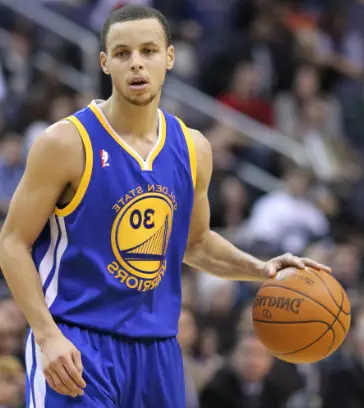 The Golden State Warriors guard has an estimated $40 million worth of endorsement money each year, making up 48.1 percent of his yearly income. His corporate portfolio is impressive and includes long-term agreements with Under Armour and Chase Bank and sponsorship deals with Brita and ESPN+. Furthermore, he continuously partners with brands like Node to create limited-edition sneakers, further adding to his value as one of basketball's top endorsers.
Russell Westbrook:
Russel Westbrook earns $28 million yearly from his endorsement deals. This number accounts for 40.3 percent of his yearly income, making it one of the highest percentages among all NBA players. With partnership deals from companies such as Jordan Brand, Red Bull, and Mountain Dew, Westbrook has secured high-profile endorsements that generate sizable returns each year.
Giannis Antetokounmpo: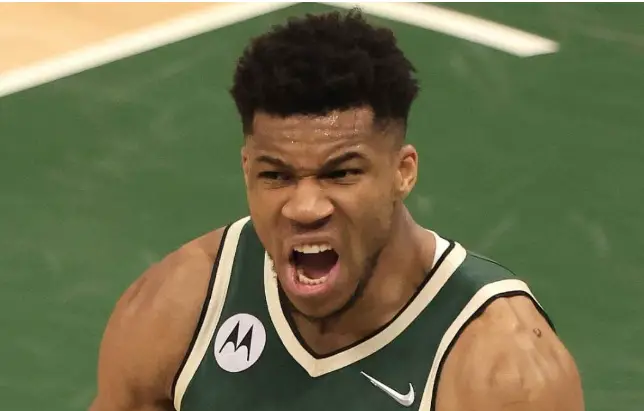 Giannis Antetokounmpo is earning $27 million from his endorsements. This equates to 49.5 percent of his yearly income, making him one of the top earners from endorsements alone this year. His innovative business decisions have paid off with money and his rising popularity throughout basketball circles and internationally.
Giannis was recently named NBA MVP for the 2019-2020 season, an honor significantly increasing his brand value, with many companies vying for sponsorship opportunities, such as Nike and BODYARMOR Sports Drink.
Types Of Endorsement Deals In NBA:
The majority of endorsements come from footwear and apparel companies; there are many other types of opportunities that can be explored.
From energy drinks to video games, NBA players have access to an array of endorsement deals that can potentially net their considerable profits. For example, one popular type of deal is 'influencer marketing' – a form of promotion in which players promote products or services through their influence on social media platforms such as Instagram and Twitter.
Product Endorsement Deals are a popular choice for many professional athletes. These deals allow them to be associated with a particular product or brand and receive compensation for their involvement. Players may also be featured in print or television advertisements promoting their chosen product while receiving royalties from sales related to those products. Additionally, they may receive incentives in terms of merchandise or other exclusive experiences related to the product they are endorsing.
Do NBA Players Make Money Off Jersey Sales?
Yes, NBA players do make money off of the sale of their jerseys . Professional basketball players are the only athletes in the four major North American sports leagues with a contract allowing them to share in the revenue generated by their team's merchandise sales. The NBA-Players Association (NBPA) negotiated this agreement with the league and its marketing partners in 2005 to help increase player salaries across the board.
The amount each player receives depends on how many jerseys bearing his name were sold during that season. The NBPA has set up an escrow account where royalties from jerseys are held until they can be divided among all eligible players at the end of each season.
What Is The Highest-Selling Jersey In NBA?
According to an ESPN and The Nielsen Company survey, LeBron James of the Los Angeles Lakers has taken over as the wearer of the top-selling jersey in recent years. He surpassed Kobe Bryant, who had held this position since his rookie season in 1996. Other top sellers include Stephen Curry of the Golden State Warriors, Kevin Durant of the Brooklyn Nets, and Giannis Antetokounmpo of the Milwaukee Bucks.
InfoGraphics: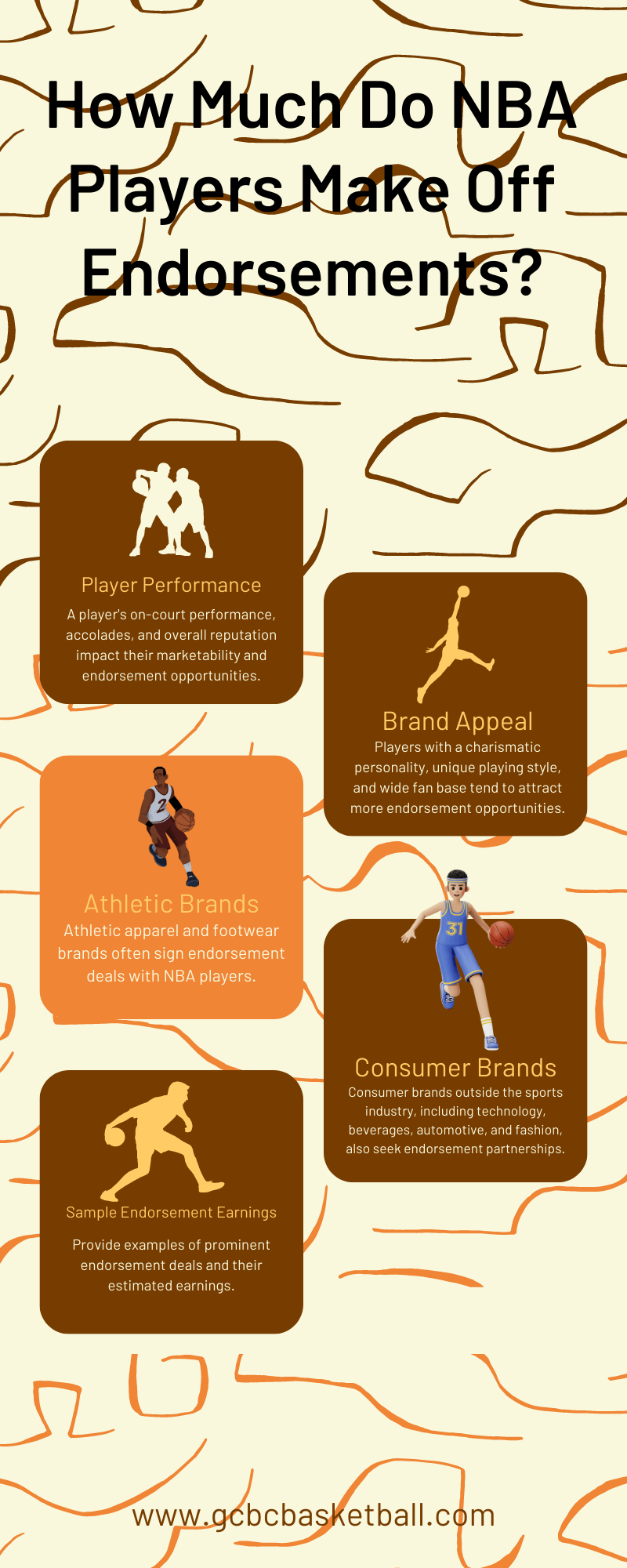 The amount of money NBA players make from endorsements varies greatly depending on the player's popularity and the value of their brands. While some superstars make millions, others only make a few thousand dollars. However, overall, NBA players can enjoy substantial endorsement income, which has made them some of the highest-paid athletes in the world. Endorsements can be lucrative for these talented athletes, providing them additional income and recognition.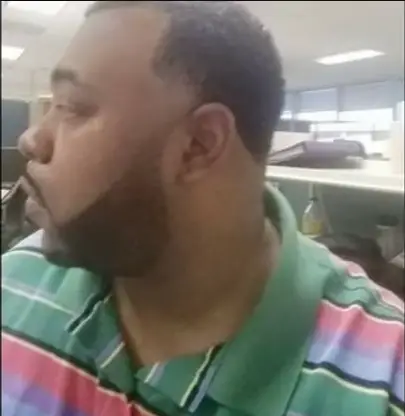 Clyde Jackson III is a basketball coach and the founder of GCBC Basketball, a basketball-related learning and informational website that focuses on helping young players develop their skills on and off the court. With over 15 years of coaching experience, Clyde has worked with players of all ages and skill levels, from beginners to professionals.