How Much Commission Do NBA Agents Make?
NBA agents earn a commission based on the contracts they negotiate for their clients. Generally, they take around 4-10% of a player's compensation. Agents usually receive additional financial incentives if they negotiate deals with additional benefits such as signing bonuses or endorsements. For example, if an agent negotiates a contract worth 100 million dollars over four years with a 10 percent commission rate and a $5 million signing bonus incentive, then their commission would be $10 million plus $500k from the signing bonus incentive for a total of 10.5 million dollars in commissions earned from that deal alone.
How To Become A Certified NBA Agent?
Licensing Requirements:
Before any agent can be certified by the NBA Players Association (NBPA), they must complete the required educational qualifications. Agents are asked to possess at least a bachelor's degree from an accredited college or university to receive certification from the NBPA.
Qualifications: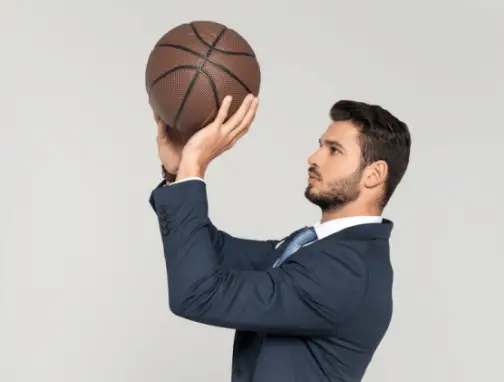 Obtain certification from either the National Basketball Players Association (NBPA) or the American Basketball Association (ABA). This certification requires applicants to pass background checks and demonstrate knowledge of sports law. In addition to these requirements, agents must also adhere to NBPA and ABA rules which detail how they can represent their clients. Also, stay up-to-date on sports law to remain compliant with regulations and protect their client's interests.
Gaining Experience: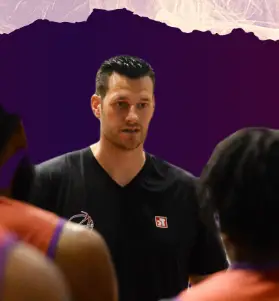 Becoming an NBA agent requires immense skill and dedication, and it can be challenging to break into this field. Agents must cultivate relationships and connections with players, coaches, front offices, and other people in the sports industry to succeed. They also need to keep up with changes in the league, such as new rules and regulations put in place by the collective bargaining agreement.
With so much competition in the field of NBA agenting, having experience is essential. Agents must demonstrate their knowledge of contract negotiations and salary cap details. They should be well-versed in player rights outlined by the National Basketball Players Association (NBPA) and the collective bargaining agreement (CBA).
Contract Terms: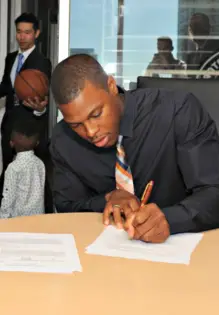 Agents typically receive anywhere from 4-10 percent of their client's total salary, depending on the agreement between them and the player or team. Agents may also be reimbursed for any expenses incurred during negotiations or other activities related to getting a deal done. These expenses may include travel costs, legal fees, and other miscellaneous costs associated with sealing an NBA contract.
What Does An NBA Agent Do?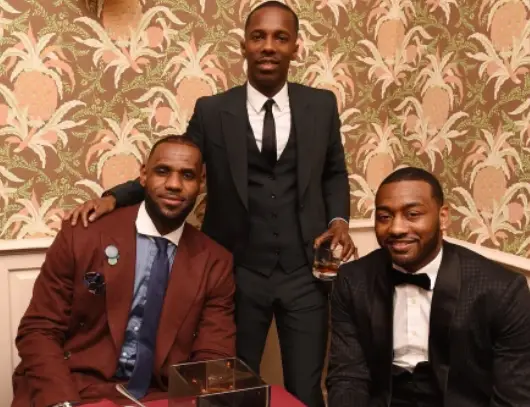 Agents are crucial to the success of many players, as they represent their client's interests and help them win better deals.
Contract Negotiations:
Contract negotiations are one of the most important duties of an NBA agent. They must deeply understand salary rules and collective bargaining agreements and have experience in contract negotiations. NBA agents work with their clients to create a fair market value for their services and present it to teams. Agents also need strong communication skills and must be able to advise their clients on financial decisions. Additionally, agents guide throughout the entire negotiation process from start to finish.
Arranging Endorsement Deals:
Agents must develop relationships with companies to understand the types of endorsements available and how best to approach them. They must also have a thorough knowledge of the current market to know which brands will most likely offer lucrative deals. Agents will then strategize how best to present their clients' skills and abilities to maximize the value of each deal.
Scheduling And Travel Arrangements:
Scheduling and travel arrangements are crucial parts of any professional basketball agent's job. Agents must ensure players get to their games, practices, promotional events, and other engagements on time. This requires the agent to track when they need to be somewhere and how they will get there.
Agents must also stay up-to-date with changes in the NBA schedule due to weather delays or injuries. Being able to anticipate potential issues before they arise can be a major asset for an agent's clientele and help ensure that players arrive at their destinations safely and on time.
Media Relations For The Player'S Image:
Media relations for the player's image have become increasingly important in today's NBA. As the public perception of athletes grows more heavily relied upon, agents must ensure their clients maintain a positive media presence. This involves creating strategies to manage their client's image and handle any potential controversy. A good agent will be able to come up with creative ways to keep their clients in the headlines for all the right reasons.
Benefits Of Working As An NBA Sports Agent:
High Salary:
The average salary of an NBA agent is estimated at around $2 million per year plus commission-based earnings that can reach up to 10%. This amount depends on how well the client's team performs in the season and how many contracts they can negotiate. Agents also receive a base fee for each successful contract negotiation and often receive additional fees from sponsorships or endorsements their clients may receive.
Glamorous Lifestyle:
Being an NBA agent can be a rewarding job for someone who loves the game of basketball. It offers the opportunity to represent some of the top players in the world and help them increase their wealth while also allowing agents to make a comfortable salary themselves.
FAQs
How much is NBA agent fees?
The NBA agent fees are regulated by the National Basketball Players Association (NBPA) and are capped at 4% of the player's salary for most contracts. For rookie scale contracts, the maximum fee is 4%, and for veteran contracts, it can go up to 4%.
What percentage does Rich Paul get?
Rich Paul, as an NBA agent and founder of Klutch Sports Group, typically receives a maximum of 4% as his agent fee for representing NBA players.
How much does an NBA manager make?
The salary of an NBA manager can vary widely depending on the team, the manager's experience, and the specific responsibilities involved. On average, NBA managers' salaries range from around $50,000 to over $100,000 per year.
Do retired NBA players get paid?
Yes, some retired NBA players receive pension payments and other benefits from the NBA and the National Basketball Players Association (NBPA) after meeting certain eligibility requirements. The pension and benefits are based on the player's years of service in the league.
InfoGraphics: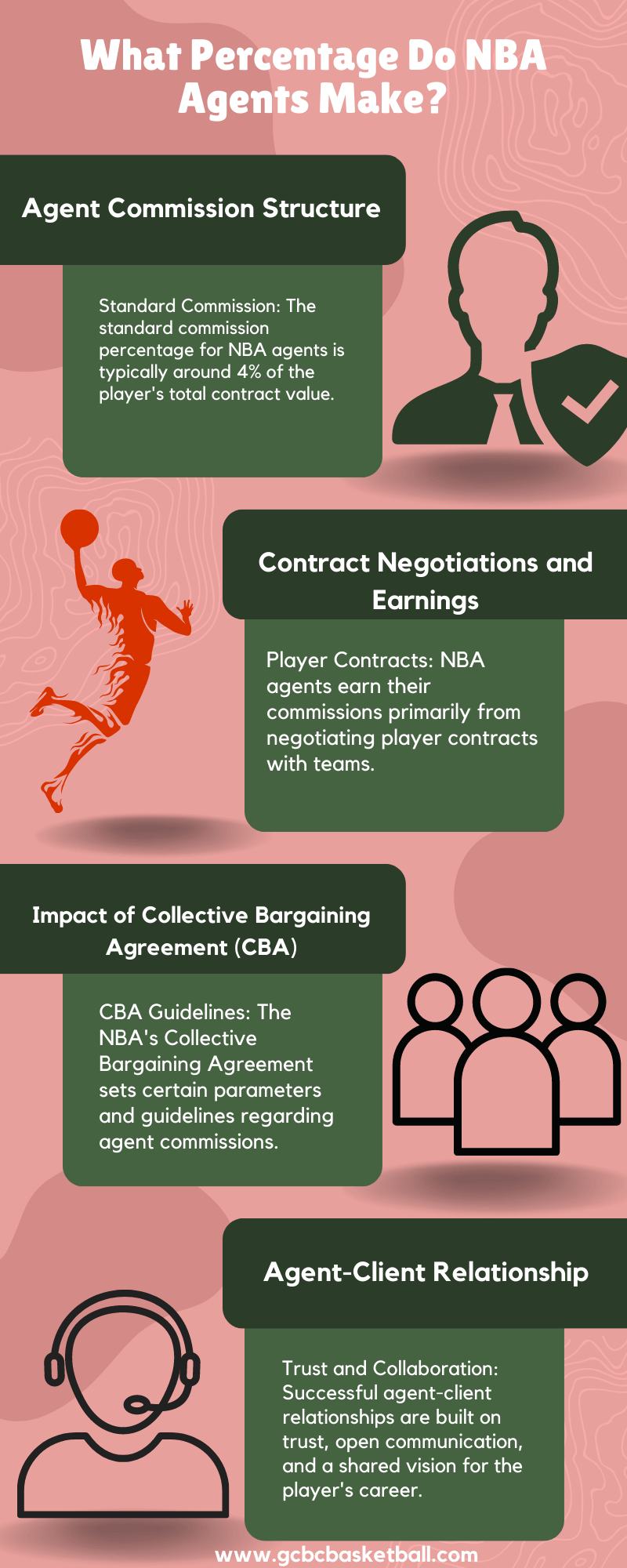 NBA agents are vital to the sports industry and serve as invaluable client advocates. It is clear that NBA agents do not make a fixed salary, but depending on the size of the clientele and fees negotiated, they can make anywhere from 4-10% of the player's earnings. It is important to remember that agent fees are often subject to taxes and other deductions, which can significantly reduce overall profits.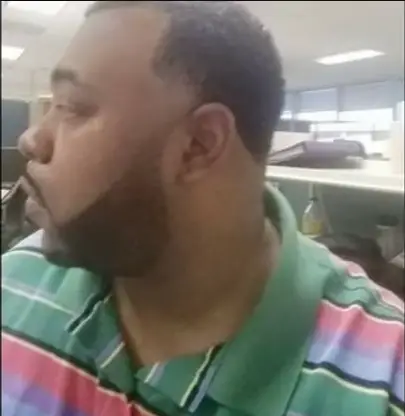 Clyde Jackson III is a basketball coach and the founder of GCBC Basketball, a basketball-related learning and informational website that focuses on helping young players develop their skills on and off the court. With over 15 years of coaching experience, Clyde has worked with players of all ages and skill levels, from beginners to professionals.