From a technical standpoint, the Under Armour Curry 7 has been designed with several features that make it suitable for basketball. While individual preference regarding fit, comfort, and style will always play a role in shoe selection, in terms of performance and protection, the Curry 7 certainly meets the criteria for a good basketball shoe.
How Good are Under Armour Curry 7?
Under Armour Curry 7 basketball shoes are part of a line associated with NBA star Stephen Curry. Like most signature basketball shoes, they were designed with input from the athlete and intended to meet high performance standards. Here's a technical breakdown of the Under Armour Curry 7's features and their implications for basketball performance:
Upper Construction: The Curry 7 uses a blend of materials in the upper, including a combination of mesh and synthetic materials. This offers a mix of breathability and support. Breathability is essential in a game like basketball where players' feet can get sweaty, potentially causing slippage inside the shoe. The support from the synthetic overlays ensures that the foot remains locked in and stable during lateral movements.
HOVR and Micro G Cushioning: Under Armour implemented their HOVR technology in tandem with Micro G foam in the Curry 7. HOVR offers good energy return, meaning that players might feel a slight bounce-back effect when they land, aiding in their next movement. Micro G, on the other hand, is a bit firmer and more responsive, which can be beneficial during quick cuts and changes in direction.
TPU Plate: There's a TPU (thermoplastic polyurethane) plate that aids in torsional rigidity. This means that the shoe provides good support during rotational movements, reducing the risk of injury and increasing stability.
Traction Pattern: The Curry 7 uses a herringbone traction pattern, which is one of the most tried-and-true patterns for basketball shoes. This type of pattern offers multi-directional grip, ensuring that players can move quickly and confidently on the court without fearing unexpected slippage.
Decoupled Heel: The shoe's heel is decoupled, which means it's designed to move independently from the rest of the shoe. This design can aid in smoother heel-to-toe transitions during running or changing directions.
Fit: A good basketball shoe should offer a snug fit to prevent the foot from moving around inside. The Curry 7, like most modern basketball shoes, is designed with this in mind. It features a padded collar and tongue to ensure comfort and a better fit.
Durability: With the combination of materials used and the quality of construction, the Curry 7 is built to withstand the rigors of basketball play. This means players won't need to replace them as often, which is an important consideration for those who play regularly.
| Category | Description | Pros | Cons | Rating |
| --- | --- | --- | --- | --- |
| Traction | Herringbone paired with a radial pattern. | Top-tier, almost magnetic grip on the court. | The rubber feels soft and might fray outdoors. | 9/10 |
| Cushioning | HOVR meets Micro-G. | Keeps things firm, good for staying grounded. | Lacks plushness; might not be exciting despite the tech. | 7/10 |
| Materials | Dominantly synthetic. | Durable. | Lacks richer textures; and feels more like a team model than a signature shoe. | 6/10 |
| Fit | Improved from the Curry 6. | Fits like a glove for most. | Might feel tight in the forefoot for wide footers. | 8/10 |
| Aesthetics | Multi-material upper with a full-length support plate. | Holds its own, and suggests seriousness. | The transition from previous models like Curry 5 and 6 seems puzzling. | 7/10 |
Under Armour Curry 7 Basketball Shoes Personal Experience and Performance Review
From my first step in these shoes, I recognized that signature top-tier traction, familiar across many Curry models. Herringbone paired with a radial pattern? It's like pairing peanut butter with jelly – classic and effective. On-court, these shoes clung to the floor like they had personal issues with it. But here's the catch: the rubber felt a tad soft, giving outdoor players something to think about as fraying creeps in.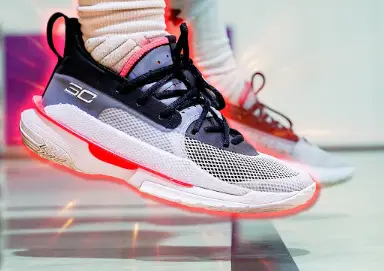 Now, Under Armour brought together its best cushioning tech for the Curry 7. HOVR meets Micro-G. Sounds like a dream? Think again. Much like previous iterations, this shoe keeps things firm. While some might yearn for that plush, cloud-like cushioning, the Curry 7 nudges you to stay grounded – quite literally.
As for materials, it's a mixed bag. Synthetics dominate, but there's a pang of longing for richer textures. A hint of suede or nubuck would've added a touch of luxury. Although the synthetics offer undeniable durability, there's something about the feel of raw materials that's irreplaceable. On the plus side, the fit seemed to have improved since the Curry 6; it feels like a glove right out of the box. But wide footers, brace yourselves; the forefoot might feel a smidge tight initially.
Performance-wise, this shoe shines in many aspects:
Fit: Spot on for most. For those blessed with wide feet, considering half a size up might not be a bad idea.
Traction: Almost magnetic to the court. This one gets a high score from me.
Support: Impressive, especially for a low-top sneaker.
Materials: They do the job, but leave something to be desired. We've seen better in previous Curry models.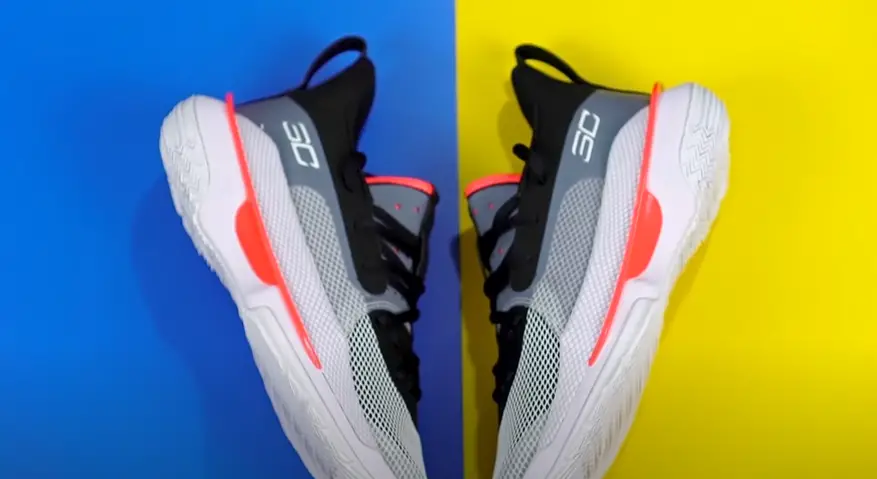 Curry 7, with its tank-like upper and multidirectional traction, seems built for warriors, no pun intended. Yet, despite these strengths, I couldn't help but feel a tad underwhelmed with the material choice. It felt more team model than a signature shoe. I've seen the evolution of the Curry line, and this feels like a slight misstep in the dance.
As for its aesthetics, while I can't award it the title of "The Showstopper," it holds its own. The multi-material upper, combined with a full-length support plate and internal heel counter, suggests serious business. But, the aesthetic journey from Curry 5 and 6 to here? Slightly puzzling.
The cushioning, despite having top-notch tech, lacked that bounce and excitement. It's functional, yes, but not thrilling. Still, for those looking for court feel, stability, and an edge in their game, the Curry 7 does deliver.
What I Liked About The Under Armour Curry 7 Performance:
Traction: The signature top-tier traction reminiscent of other Curry models impressed me. The combination of herringbone with a radial pattern felt classic and super effective. On-court, the grip was almost magnetic.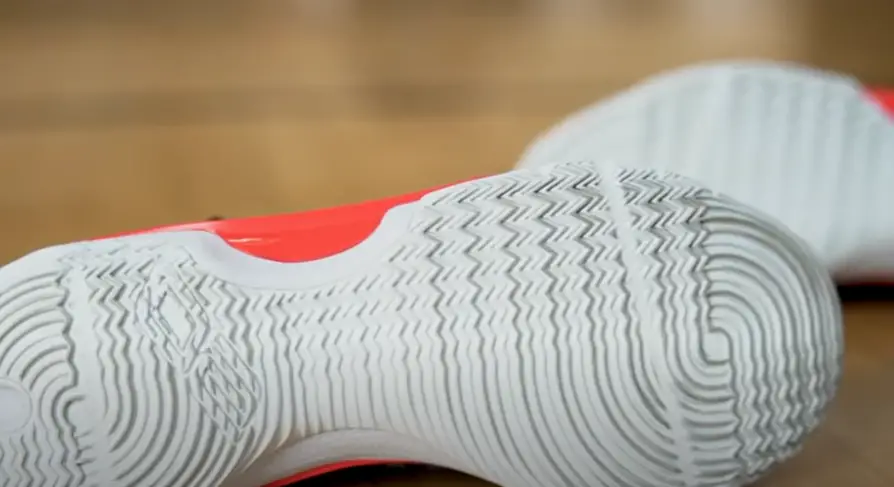 Cushioning: The combination of HOVR and Micro-G is intriguing. Although it offers firmness rather than plushness, it's perfect for players who prefer staying grounded.
Fit: The shoe's fit has shown improvement from the Curry 6. It felt snug and glove-like straight out of the box.
Support: The support this shoe provides, especially being a low-top sneaker, is commendable.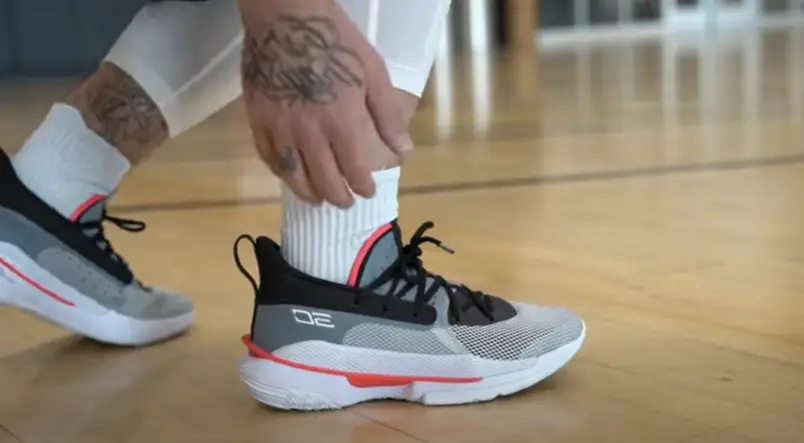 Aesthetics: While it might not be the showstopper, the Curry 7 holds its own in the looks department. The multi-material upper combined with the support plate gives it a serious business vibe.
What I Wish Was Different About The Under Armour Curry 7 Performance:
Traction Durability: While the grip was stellar, the rubber felt soft. This could be a concern for outdoor players due to potential fraying.
Material Choice: The dominance of synthetics made the shoe feel less luxurious. A touch of suede or nubuck would've enhanced the texture and feel. It felt more like a team model than what one would expect from a signature shoe.
Cushioning Feel: Despite having top-notch technology, the cushion lacked that bouncy excitement some players yearn for.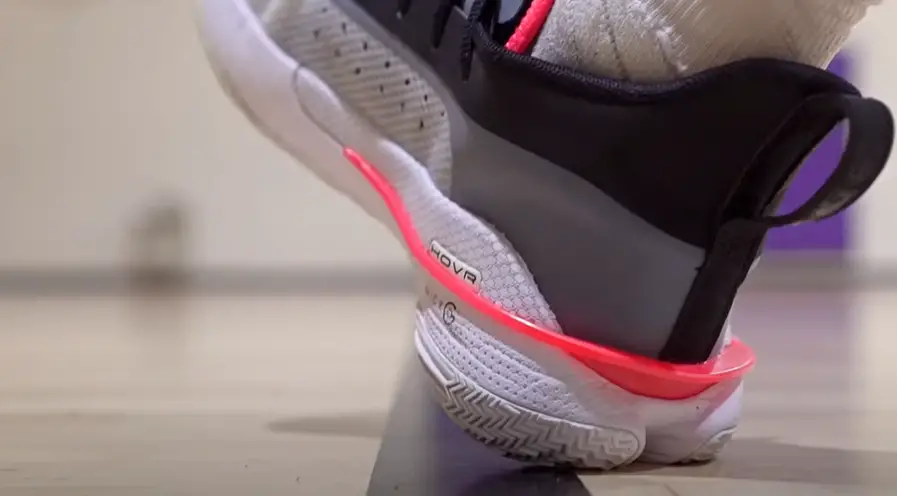 Fit for Wide Footers: The forefoot area might feel a bit too tight for those with wider feet.
Conclusion: The Curry 7 mirrors life; it has its highs and lows. If you're dreaming of a revolution because of HOVR and Micro G, or plush materials, you might feel shortchanged. But if a solid, reliable performer is what you're after, the Curry 7 won't disappoint. Curious? Give them a shot and feel the evolution.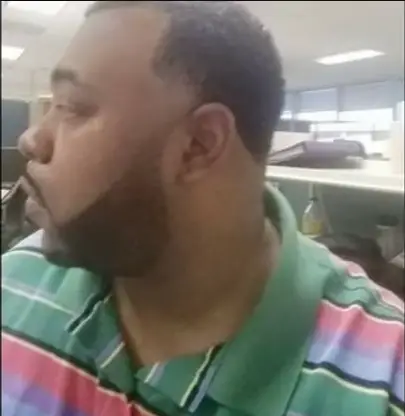 Clyde Jackson III is a basketball coach and the founder of GCBC Basketball, a basketball-related learning and informational website that focuses on helping young players develop their skills on and off the court. With over 15 years of coaching experience, Clyde has worked with players of all ages and skill levels, from beginners to professionals.