A point guard is a position in basketball that is typically responsible for leading the team's offence and making plays. The primary role of a point guard is to distribute the ball, set up plays, and create scoring opportunities for their teammates. Basketball Shoes play a crucial role for point guards due to the unique demands of their position.By providing the necessary support, traction, lightweight, responsive cushioning, ankle support, and breathability to enhance their agility, quick movements, and overall performance on the court.
Best Basketball Shoes for Point Guards
| Aspect | Details |
| --- | --- |
| Model | Puma Clyde All-Pro |
| Outsole | – Old-school design resembling the Boston Celtics' floor |
| | – Shallow traction pattern, potentially great for outdoor use |
| | – Features a pivot point for improved maneuverability |
| | – PEBAX puck and Pro Foam Light in the heel for cushioning |
| | – OrthoLite insole for added comfort |
| Upper | – Multi-zone woven Matrix Evo material for support and lightness |
| | – Carbon zoning with carbon threads for reinforcement |
| | – Some concerns about flex dent in areas without carbon threads |
| Fit | True to size |
| Aesthetics | Slim and sleek design, not as retro as previous Clyde models |
| Cushioning | Improved cushioning compared to previous models |
| | Pro Foam Light and PEBAX puck in the heel for better cushioning |
The point guard position demands speed, agility, and quick decision-making on the basketball court. Finding the right shoe that matches these demands can be a challenge. Puma Clyde All-Pro seems to fit the bill for this vital position. Let's break it down: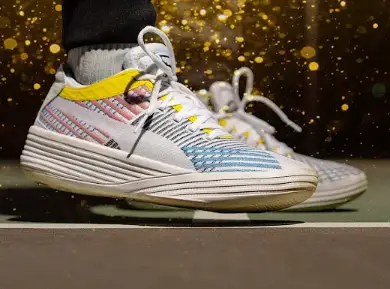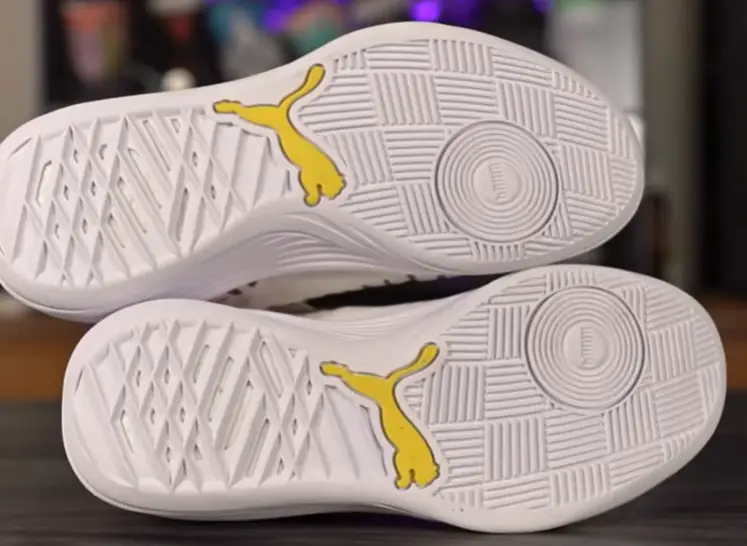 For point guards, grip is everything. Dribbling past defenders, executing quick crossovers, and making fast breaks require traction you can trust. The Clyde All-Pro offers multidirectional grip that clings to the court, providing point guards with the confidence to make those lightning-fast moves without missing a beat. The old-school design, reminiscent of the Boston Celtics' floor, not only adds a touch of nostalgia but ensures you're grounded at all times.
Fast-paced play means frequent impact. Puma's Pro Foam+ in the Clyde All-Pro ensures that point guards get the cushioning they need without sacrificing court feel. The Pebax puck in the heel provides enhanced impact protection, which is crucial for guards who are always on the move. This blend of cushioning ensures that guards can play longer with reduced foot fatigue.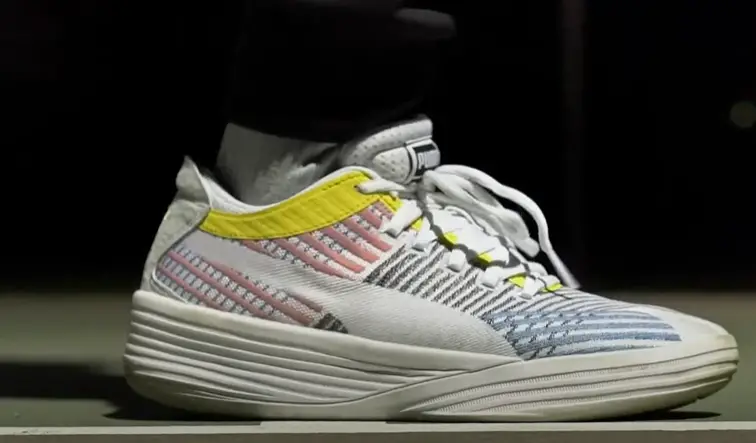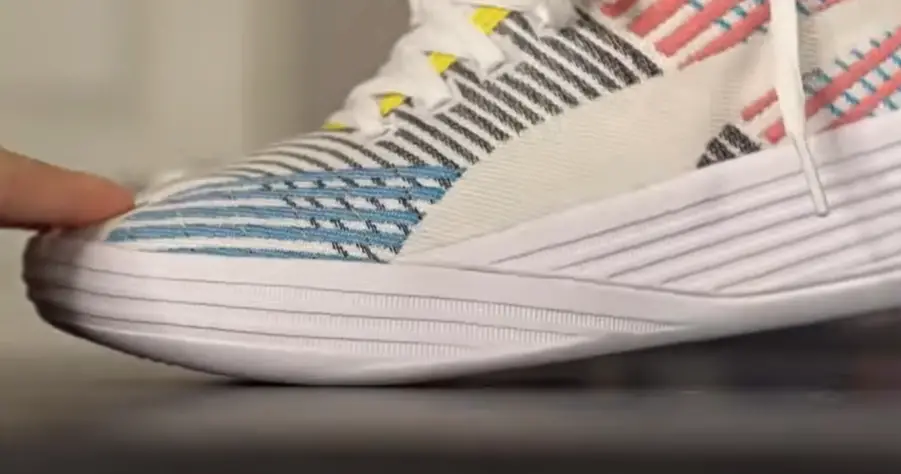 For point guards, a shoe's upper should provide support without adding unnecessary weight. The Clyde All-Pro's multi-zone woven Matrix Evo material is lightweight yet robust. The carbon zoning offers reinforcement, ensuring the shoe remains durable game after game. The slight concerns about the flex dent in areas without carbon threads are something to keep in mind, but the overall construction promises durability and comfort.
Fit is crucial for point guards. They can't afford to have their foot sliding inside the shoe during a crucial play. With the Clyde All-Pro, once you break them in, you get a fit that's snug and true to size. The pivot point and the design ensure that guards remain stable, even during the most aggressive plays.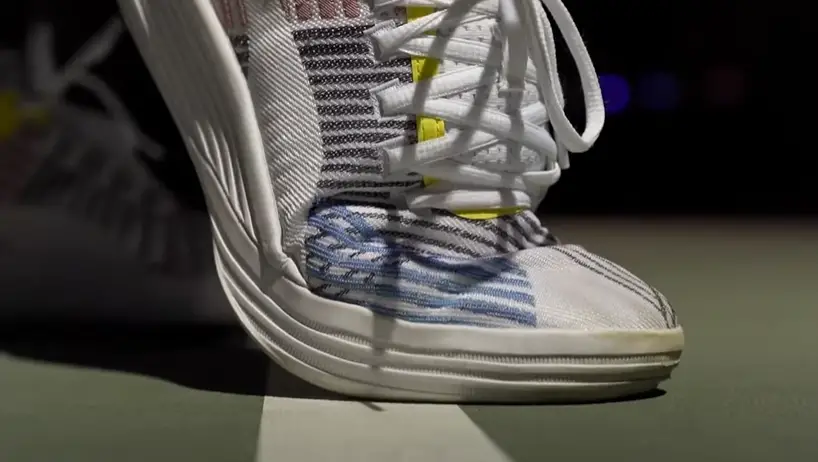 Pros
Pronounced court feel: Essential for point guards to gauge their movement and make quick decisions.
Excellent traction: Keeps point guards grounded during rapid direction changes.
Lightweight: Enables point guards to move faster and jump higher.
Cushioned heel: Offers the right amount of bounce, especially during layups and jump shots.
Aesthetic appeal: Style on and off the court.
Cons
Lacks forefoot cushion: Point guards might desire more cushioning for toe-offs.
Narrow structure: Might be an issue for those with wider feet.
Needs a break-in period: It takes a few games to get them game-ready.
Who Should Buy the PUMA Clyde All-Pro:
This shoe is tailored for point guards. If you play this position, the Clyde All-Pro should definitely be on your shortlist. The only reservations are for those with wider feet, those who seek added forefoot cushioning, or those not in favor of a break-in period.
Conclusion:
Inshort, The Puma Clyde All-Pro stands out as an optimal choice for point guards, balancing style with performance. Its design caters to the dynamic play style of guards, ensuring responsive plays and quick transitions. While it has minor areas for improvement, the Clyde All-Pro's overall offering presents outstanding value for point guards looking to elevate their game.
Sale
Nike Men's Air Zoom G.T. Cut 2 Basketball Shoe Review – Elevate Your Game, Point Guards
| | | | | |
| --- | --- | --- | --- | --- |
| Feature | Quantitative Analysis | Qualitative Analysis | Advantages | Limitations |
| Traction | Dynamic herringbone and hollowed-out design | Provides a steadfast grip on different courts | Excellent grip even during rapid directional changes | None identified |
| Cushioning | Full-length Zoom Air Strobel combined with soft foam midsole | Elevated comfort with React Tech integration | Makes landings softer and enhances responsiveness | None identified |
| Breathability | Innovative materials with a focus on the shoe's front | Optimal ventilation and prevents overheating | Comfortable for prolonged play sessions | None identified |
| Fit | True to size with a hint of toe space | Snug, low-to-ground design with agility in mind | Provides enough room for toes, enhancing agility | Slight extra space in the toe region might not suit everyone |
| Support | Medial and lateral lace design, flexible tongue | Forefoot anchored and maximized protection | Excellent for point guards, aiding in lateral movements | None identified |
Stepping onto the court with the Nike Men's Air Zoom G.T. Cut 2 Basketball Shoe, I sensed innovation at my feet. As an avid basketball shoe aficionado, the G.T. Cut 2 presented a blend of advancements and refinements from its prior iteration.
Now, a point to ponder. While the shoe boasts numerous advantages, the toe region felt slightly spacious. A minor point, but for those seeking an ultra-snug fit, it's worth considering.
Evolution from the G.T. Cut 1: Feedback fuels innovation, and Nike's approach with the G.T. Cut 2 exemplifies this. Comparing the two models, the brand's intent to optimize user experience shines through. Enhanced traction, improved breathability, and fit refinements mark the shoe's evolution.
Comparison with Peers: In a market brimming with basketball shoes, the G.T. Cut 2 emerges as a contender. Its potent mix of grip, cushion, and support positions it favorably against top-tier rivals. Its progression from the G.T. Cut 1 focuses on user-centric improvements.
Who Should Buy the Nike's Air Zoom?
Nike's Air Zoom G.T. Cut 2 doesn't merely follow trends; it sets them. For those searching for a perfect blend of performance and comfort, this shoe deserves serious consideration. Step into innovation, and let your gameplay soar.
Nike Men's Air Zoom G.T. Cut 2 Basketball Shoe (Black/Desert Berry/Valerian Blue/Metallic Summit White, us_Footwear_Size_System, Adult, Men, Numeric, Medium, Numeric_8_Point_5)
Enhance Your 1st Step Nike React technology paired with parabolic Air Zoom Strobel cushioning stacked with a Zoom Air unit in the heel helps provide the responsiveness you need to create space and opportunity off the dribble. The React insole provides support and comfort. A soft foam midsole offers comfort and a stable underfoot experience.
Quick-Twitch Takeoff The upper is inspired by a butterfly with an inner cage that's built into the lining underneath. It helps reduce the weight of the shoe to help you take off in an instant.
Hit the Brakes As you're hitting that sharp cut, the smear traction helps you briefly stick to the ground while the other directional traction helps you dig your toe in and toe out of it. The hollow herringbone pattern helps you stop quicker.
Jordan Zoom Separate Mens Shoes Review – Best Low Basketball Shoe for Point Guards
Quantitative And Qualitative Feature Comparison Table for Jordan Zoom Separate Mens Shoes
| | | | | |
| --- | --- | --- | --- | --- |
| Feature | Quantitative Measurement | Qualitative Benefits | Previous Models Comparison | |
| Traction | Multi-directional traction pad | Exceptional grip on various court types | Better than most Jordans | Multi-directional design ensures consistent grip, reducing slip-ups during high-intensity games. |
| Zoom Air Comfort | Forefoot Zoom Air unit | Enhanced comfort and cushioning during jumps | Advanced from Air Jordan 10 | Forefoot Zoom Air technology offers superior cushioning, giving an edge over traditional Nike Air units. |
| Foam and Impact Protection | Dual-density foam | Soft yet resilient, offering solid impact protection | Evolution from Air Jordan 12 | Dual-density foam provides a balance of softness and sturdiness, crucial for quick moves on court. |
| Breathability and Material | Mesh on the forefoot and neoprene tongue | Optimal foot ventilation, reducing sweat and discomfort | More breathable design | Mesh and neoprene combination ensures feet remain cool, a significant improvement in this shoe's iteration. |
| Design and Aesthetics | Modern design integrated with classic Jordans | Eye-catching, stylish, suitable for both games and casual wear | Inspired by Air Jordan 10/12 | The shoe offers a contemporary look while maintaining iconic Jordan aesthetics, making it stand out in design. |
Stepping into the Jordan Zoom Separate is like strapping a rocket to your feet. Having tested countless basketball shoes, I've found my top pick for point guards.
Traction That Doesn't Quit Slipping on court? Not with these sneakers. The multi-directional traction pad provided unparalleled grip. Whether I was playing on a grubby street court or a pristine indoor one, these shoes had my back, ensuring no slip-ups.
Zoom Air: Cloud Nine Comfort That floating sensation during jumps? That's the Zoom Air unit at work in the forefoot. Every landing felt cushioned, making lift-offs more energetic. In a head-to-head with competitors, Jordan takes the lead here.
A Foam Like No Other As a point guard, impact protection is a game-changer. The dual-density foam in the Jordan Zoom Separate is both soft and resilient. Whether I was making quick drives or taking jump shots, my feet felt secure and cushioned.
Breathability at its Peak The design nails breathability. The mesh on the forefoot, combined with the neoprene tongue, ensures ample ventilation. Even in intense moments of the game, my feet felt cool.
Slick and Stylish Beyond its functionality, these shoes are eye-catchers. They've evolved from classic Jordans, showcasing a modern edge without losing their iconic essence.
Flat Laces – An Acquired Taste A minor gripe of mine – the flat laces. They're distinct from the usual, and while it took some getting used to, they became second nature after a few games.
Versatility That Speaks Comparing this with other Jordans like the Air Jordan 10 and 12, the Zoom Separate's evolution is evident. It beautifully marries performance with street flair, a fusion that's rare to find.
Who Should Buy the Jordan Zoom Separate?
After an extensive trial with various basketball sneakers, the Jordan Zoom Separate emerges as a top contender. It harmoniously blends technical brilliance with contemporary aesthetics. If you're seeking a game-changing experience, don't hesitate. Step into the Jordan Zoom Separate and feel the difference on the court.
Nike PG 6 basketball shoes for point guard Elevating Performance and Comfort: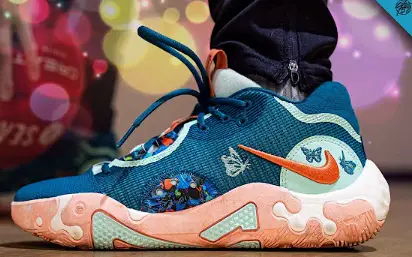 I will talk about performance, comfort, and design of Nike PG 6 basketball shoes. By examining its packaging, color options, rubber composition, materials, and sizing recommendations, I am going to explain it to you for making an informed decision. The shoe arrives in a sturdy and visually appealing box, accompanied by a "Just Do It" Nike tag. Additionally, the box features a punch-out cupid heart, adding a touch of uniqueness and charm to the unboxing experience. 
Regrettably, the PG 6 Boost does not feature dedicated NBA All-Star colorways, which may disappoint fans who appreciate special editions tied to the prestigious event. However, Nike compensates for this by releasing eye-catching colorways, such as the Valentine's Day edition, which garnered attention for its vibrant aesthetic and thematic design. 
Extra Durable Rubber Outsole:
The PG 6 Boost, obtained from ID for Shoes, showcases the inclusion of XDR (Extra Durable Rubber) outsole technology. This feature enhances the shoe's longevity, particularly for outdoor basketball play. Moreover, ID for Shoes offers authentic EP (Engineered Performance) versions of the shoe, ensuring durability and optimal performance in various conditions.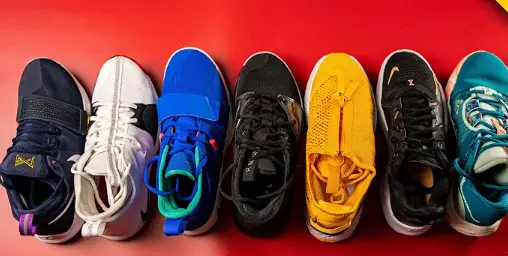 To understand the evolution of the PG 6 Boost, it is essential to consider its lineage within the broader Nike PG line. The shoe builds upon the successes and learnings from its predecessors, incorporating design elements and performance enhancements to address previous shortcomings. 
Full-Length Nike Foam cushioning:

One standout feature of the PG 6 Boost is its implementation of full-length Nike React foam. I experienced exceptional comfort and responsiveness underfoot. The foam's ability to compress and rebound effectively mimics the performance of traditional Zoom Air setups, enhancing the overall cushioning experience. 
While the performance of the PG 6 Boost is commendable, its aesthetic may polarize potential buyers. The shoe exhibits a more budget-oriented appearance, resembling popular models found in general retail stores rather than a signature shoe. However, it is important to remember that performance should take precedence over aesthetics on the basketball court. 
Basic, Layered Jacquard Construction:
The upper of the PG 6 Boost features a basic, layered Jacquard construction. Although it lacks the intricacies of more premium materials, it offers sufficient durability and breathability for extended court sessions. The tight-knit toe area provides additional support, while the rest of the upper showcases a more open design for improved ventilation.
The PG 6 Boost boasts a plush, comfortable tongue that pleasantly surprised me during wear tests. Although not highly breathable, its soft and thick padding adds an extra layer of comfort and helps create a secure fit around the foot. 
The traction capabilities of the PG 6 Boost are visually appealing, with a grippy-looking outsole that promises reliable court grip. Initial observations indicate potential for excellent traction during quick cuts and multidirectional movements. 
Based on my experience, I recommend going true to size with the Nike PG 6 Boost. The shoe provides a snug and secure fit, particularly with the lockdown pieces and overall design. However, those desiring a tighter one-to-one fit may consider going down half a size.
Pros
Exceptional Performance

Lightweight and Agile
Responsive Cushioning
Enhanced Traction
Cons
Limited Colorway Options

Fit Preference: The fit of the Nike PG 6 may vary for different individuals.

Break-in Period: Like many basketball shoes, the Nike PG 6 may require a break-in period to fully conform to the player's foot and provide optimal comfort.

Price Range: The Nike PG 6 basketball shoes are positioned in a higher price range compared to entry-level models.
Nike Mens PG 6 NRG DH8446 900 - Size 12 Multi-Color
The Pharrell x adidas Chancletas Hu Slides "Black" is a comfortable footwear option imagined in collaboration by the music artist and German shoe brand
Based on the adilette, the Chancletas Hu Slides are a fashion-forward vibe dressed in a monochromatic all-black colorway for endless wearability
this wrelease was part of Pharrell's "Black Future" collection that honors his Time Magazine "We Deserve a Black Future" essay
PEAK High Top Men's Basketball Shoes, Performance and Comfort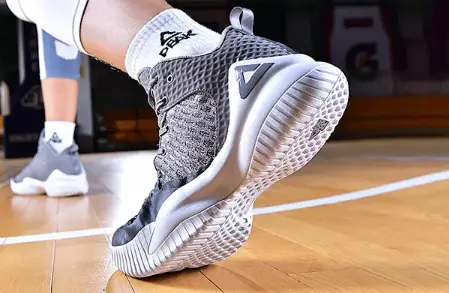 Let's  know the shoe's performance, comfort, and design from a user's perspective. Here is some valuable information and experience with these basketball shoes. 
Grip and Court Performance:
Playing on an indoor basketball court, I found the grip of these shoes to be exceptional. The outsole provides reliable traction without feeling overly sticky, striking the perfect balance between grip and freedom of movement. Throughout countless games, I have not experienced any slips or slides, ensuring confidence and stability during intense movements. This feature sets the PEAK Streetball Master apart from its competitors, ensuring optimal performance on the court. 
Weight, Quality, and Comfort:
Weighing in at a comfortable level, the PEAK Streetball Master offers the right balance between lightweight agility and durability. The shoes are well-constructed, demonstrating a high level of craftsmanship that withstands the demands of rigorous play. Despite my wide foot, the shoes have not stretched out over time, retaining their shape and support. Furthermore, the shoes provide a decent level of arch support, contributing to overall comfort and reducing foot fatigue during extended gameplay. 
Unique Fit and Flexibility: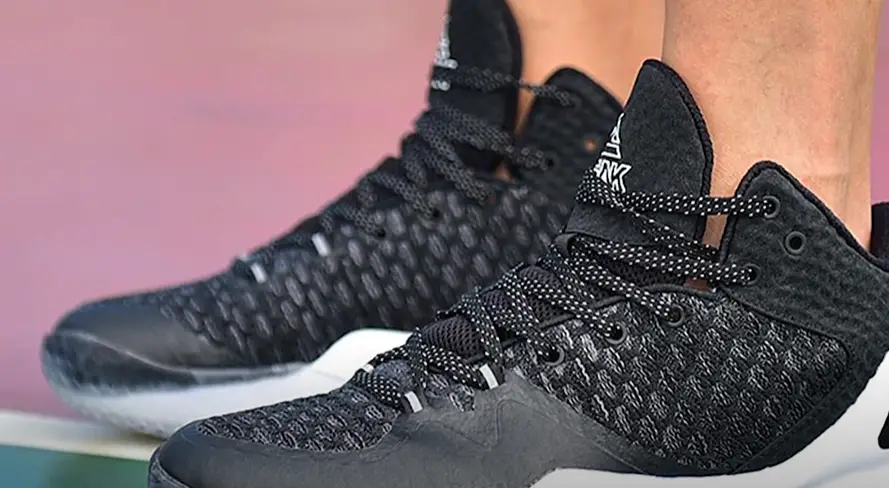 One standout feature I discovered after acquiring the shoes is the customizable fit in the lower and upper areas. The foot/lower area can be tightened to achieve a snug fit, optimizing stability and responsiveness. In contrast, the ankle/upper area can be left slightly loose to provide flexibility and freedom of movement. This thoughtful design allows for a personalized fit, catering to individual playing styles and preferences. 
Evolution from Previous Models:
The PEAK Streetball Master represents a significant evolution from its previous repetition, incorporating improvements based on user feedback. These enhancements address issues and elevate performance, making it an excellent choice for basketball enthusiasts. The shoe's construction showcases meticulous attention to detail, resulting in enhanced comfort, durability, and on-court performance.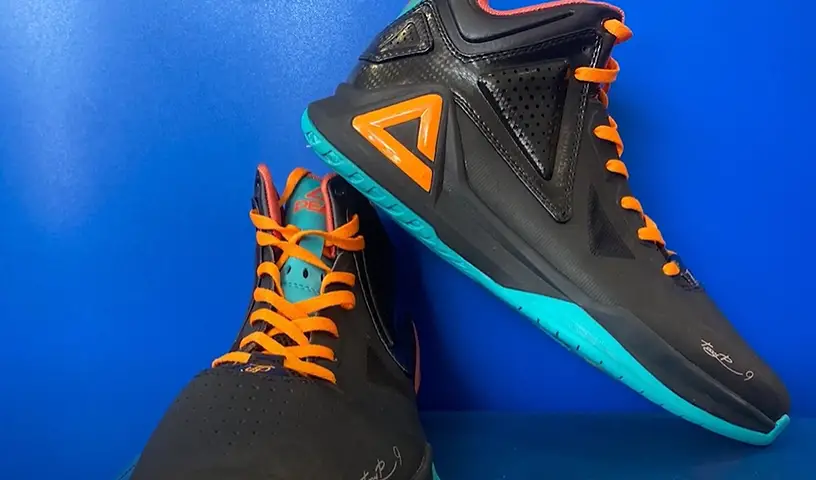 PEAK has made strategic design choices that positively impact the user's experience. The high-top silhouette provides ample ankle support, reducing the risk of injuries during sudden movements or changes in direction. The breathable upper material promotes ventilation, preventing excessive foot perspiration. Additionally, the cushioning system effectively absorbs impact, allowing for comfortable workouts and reducing strain on the feet and joints.
Pros
Excellent Performance: The shoes are designed to enhance agility and support quick movements, making them suitable for dynamic players.

High-Quality Construction: These shoes boast high-quality materials and craftsmanship, ensuring durability and long-lasting performance.
Customizable Fit: PEAK High Basketball Shoes offer a customizable fit, allowing players to adjust the tightness in specific areas for optimal comfort and support.
Stylish Design: The PEAK High Basketball Shoes feature a stylish design that combines functionality with aesthetic appeal.
Cons
Limited Availability: PEAK High Basketball Shoes may have limited availability in certain markets or regions.

Fit for Specific Playing Styles: While PEAK High Basketball Shoes are versatile.they may be better suited for players with certain playing styles or preferences.
Less Brand Recognition: Compared to other well-established basketball shoe brands, PEAK may have less brand recognition in some markets.
Limited User Feedback: Due to the brand's relatively smaller market share, there may be fewer user reviews and feedback available for PEAK High Basketball Shoes.
Sale
PEAK mens High Top Basketball Lou Williams Streetball Master Breathable Non Slip Outdoor Cushioning Workout Fitness Shoes, Classic Black & Gray, 11
SEAMLESS INTEGRATED WEAVING & HOT-MELT PROCESS: High-quality integrated weaving combined with hot-melt process to fully reduce the discomfort of the foot and provide comfortable wrapping and support. The outsole of the Streetball Master is thick and solid, with a deep traction pattern that will wear nicely outdoors.
PEAK STA STABILIZATION MODULE: A stabilization module that rolls up on the outside of the forefoot and bulges outward, providing support for the lateral movement of the foot and reducing the chance of spraining.
OUTDOOR RB UPGRADED WEAR-RESISTANT RUBBER: By upgrading the rubber formula, the wear resistance has been greatly improved, which can better adapt to the conditions of plastics, cement, etc. in the field, and avoid the impact of the shoes service life due to the excessive wear of the shoe.
Importance of Perfect Point Guard Basketball Shoes
Here are some reasons why shoes are important for point guards and what does the perfect Point guard shoe look like.
Quickness and Agility:  Point guards need to be agile and have quick movements to navigate the court, change directions rapidly, and execute dribbling moves effectively. Shoes designed for point guards often have lightweight construction, low-tops, and flexible materials to enhance agility and speed.
Traction: Good traction is essential for point guards to maintain control while making quick cuts, changes of direction, and accelerating past defenders. Shoes with specialized outsoles and grip patterns provide optimal traction on the basketball court, allowing point guards to maintain their footing and maneuver with confidence.
Stability and Support:  Point guards frequently make explosive movements and sharp cuts, putting strain on their feet and ankles. Shoes with adequate ankle support and stability features help minimize the risk of injuries, such as ankle sprains. They provide stability during lateral movements, protect against rollovers, and offer a secure fit to support the foot.
Cushioning and Impact Protection: Point guards spend a significant amount of time on their feet, jumping, and absorbing impact during landing. Proper cushioning in basketball shoes helps to absorb shock, reduce the risk of foot fatigue, and provide comfort throughout the game.
Control and Feel:  Point guards rely heavily on their dribbling and shooting skills. Shoes with good ball control and a responsive feel allow them to maintain a secure grip on the ball. Moreover enhance their shooting accuracy, and improve overall control during handling.
THE Point Guard's Shoe DNA:
Consistent Multi-directional Traction:

Context: On a basketball court, players, especially point guards, make frequent and rapid changes in direction. They need to sprint, cut, pivot, and stop on a dime.
Importance: Having consistent multi-directional traction means the shoe's sole provides a grip in every direction. This ensures that the player doesn't slip or lose balance during quick movements, allowing them to perform at their peak and reduce the risk of injuries.

Cushion with Proper Impact Protection:

Context: Basketball involves a lot of jumping, running, and sudden stops. Each of these actions exerts force on the feet and joints.
Importance: Proper cushioning absorbs some of the impact, protecting the player's feet, ankles, and knees. For point guards, who often lead the offense and play heavy minutes, this is crucial to reduce fatigue and the risk of stress injuries.

All-around Support, But Not Restrictive:

Context: Point guards need the flexibility to make quick movements, but they also need support to prevent injuries, like ankle rolls.
Importance: The ideal basketball shoe for a point guard provides ample support, especially around the ankles, without being too restrictive. It allows for natural foot movements, ensuring that the player can be agile on the court without feeling constricted by their footwear.

Fast and Lightweight:

Context: Point guards are often the fastest players on the court. They lead fast breaks, set up the offense, and require agility to navigate through defenses.
Importance: A lightweight shoe allows point guards to move more freely and quickly. It doesn't bog them down with unnecessary weight. A "fast" shoe is designed with materials and a structure that facilitates quick movements without sacrificing other essential features.
What shoes should point guards wear?
Point guards should wear shoes that offer excellent traction, support, and flexibility to facilitate quick movements and changes in direction.
Are LeBron shoes good for Point guards?
Yes, LeBron shoes offer good support and cushioning, but whether they're suitable for a individual point guard depends on personal preference for shoe weight and feel.
What Shoes Do Most NBA Players Wear?
Most NBA players wear signature or sponsored basketball shoes from major brands like Nike, Adidas, Under Armour, and Jordan, with specific models and styles varying by player preference and endorsement deals.
Are Kyries Good For Point Guards?
Yes, Kyrie Irving's signature shoes are designed with point guards in mind, offering excellent traction and a secure fit for agility and quick cuts on the court.
What are the Best Shoes for Shooting Guards?
The best shoes for shooting guards vary depending on individual preferences and playing style, but popular options include the Nike Kobe AD, Jordan CP3, and Under Armour Curry line.
Should I Buy Basketball Shoes a Half-Size Bigger?
It is generally recommended to buy basketball shoes true to size, as a half-size larger may result in reduced stability and potential discomfort during quick cuts and directional changes.
Is There a Difference Between Basketball Shoes for Point Guards and Shoes for Other Positions?
While there may be specific features designed for point guards, such as enhanced agility and court feel, the difference between basketball shoes for point guards and other positions is minimal, and most shoes can be used by players in various positions.
How Long do I Need to Keep Using Basketball Shoes for Point Guards?
The lifespan of basketball shoes for point guards depends on factors such as frequency of use, playing conditions, and personal preference, but it is generally recommended to replace them every 6-12 months for optimal performance.
Can I Use Basketball Shoes for Point Guards Indoors and Outdoors?
Basketball shoes for point guards can be used both indoors and outdoors, but it is important to consider the outsole durability and choose shoes with appropriate traction patterns for the specific court surface.
Why should you invest in quality point guard basketball shoes?
Investing in quality point guard basketball shoes ensures better performance, improved comfort, and reduced risk of injuries, as they provide the necessary support, stability, and responsiveness needed for the demands of the position.
Are low tops better for point guards?
While low-top basketball shoes offer increased mobility and flexibility, the choice between low tops, mid tops, or high tops for point guards depends on personal preference and the desired level of ankle support.
Selecting the right basketball shoes for point guards is crucial for unlocking your full potential on the court. With the right pair of shoes, you can enhance your agility, traction, and overall performance, giving you the edge you need to exceed opponents and make precise plays.  
 Whether it's the Nike PG 6, PEAK High Basketball Shoes, or any other top-notch model, investing in quality footwear designed for point guards can greatly impact your game. Remember to consider factors such as responsiveness, stability, fit, and traction to find the perfect shoes that align with your playing style and preferences.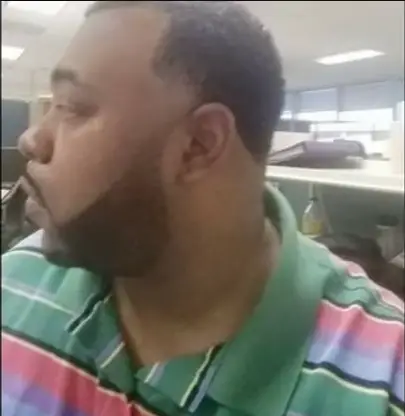 Clyde Jackson III is a basketball coach and the founder of GCBC Basketball, a basketball-related learning and informational website that focuses on helping young players develop their skills on and off the court. With over 15 years of coaching experience, Clyde has worked with players of all ages and skill levels, from beginners to professionals.