For those who love playing pool basketball, having a reliable hoop is essential for a fun and engaging game. Whether you're looking for something to mount in your backyard or portable enough to bring with you on vacations, the market is filled with various pool basketball hoops. However, not all are created equal – so it pays to do your research first.
Best Pool Basketball Hoops: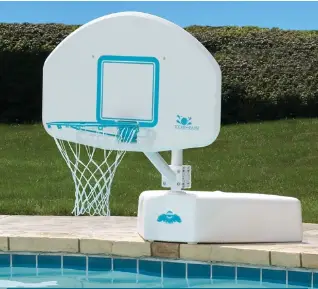 Gosports Splash Hoop 360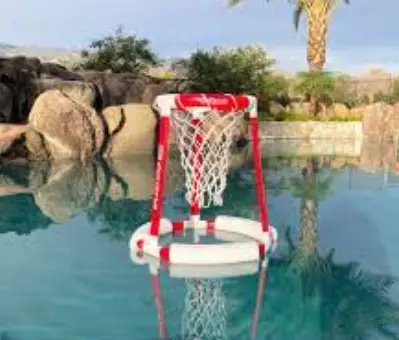 The GoSports Splash Hoop 360 is the perfect accessory for any pool enthusiast who loves a good basketball game. This inflatable pool basketball hoop is great for kids and adults, making it the perfect way to have summer fun in the water. The hoop comes with two balls and a pump for $21.55, so you can start playing immediately. Installation is also easy – use the included pump to blow up the hoop and net and begin shooting!
The best part about this basketball hoop is its durability. It's thick, heavy-duty PVC plastic that won't tear easily, even if you dunk on it during intense games. Additionally, its bright colors make it easy to spot underwater, or from far away in case it gets lost in your pool. As a bonus, you can deflate it for convenient storage when not in use. You can buy this hoop on Amazon.
Hoop Shark Swimming Hoop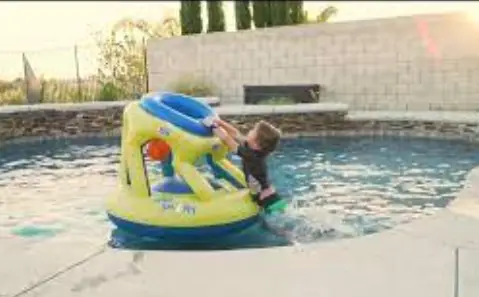 Hoop Shark Swimming Hoop is another great option. With a size 5 (kids) basketball included, this hoop will provide hours of fun for children in the pool. Not only that but this hoop is also made with high-quality materials and has a durable design so that it won't break easily.
You don't have to worry about breaking the bank because this item sells for just $32.07 on Amazon! Perfect for families who want to enjoy some water sports together, the Hoop Shark Swimming Hoop is an ideal choice for anyone looking for an enjoyable way to stay cool during the summer months. Not only does it let your kids have fun in the pool, but they can also practice their basketball skills!
Gosports Splash Hoop Pro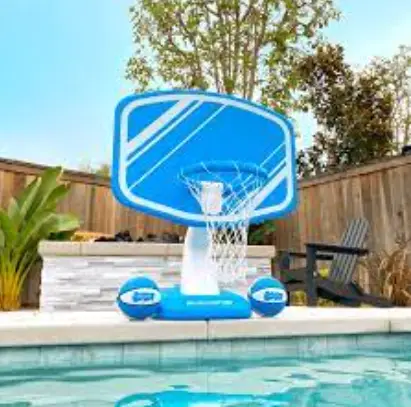 Bring a new level of fun to your summer pool days with the GoSports Splash Hoop PRO. The set is designed for use in any pool, lake, or beach and comes complete with two floating hoops and balls, an air pump, and all installation hardware.
The red 14-inch rims are a little smaller than standard rims (18″), but they provide the perfect fit for most pools and make it easier to score baskets. The hoop also has adjustable height settings to choose the right challenge for any age group. And thanks to the included air pump, it's easy to keep everything inflated at all times. Plus, with its competitive price tag of just $119, you won't have to break the bank either!
Lifetime 44-Inch Poolside Impact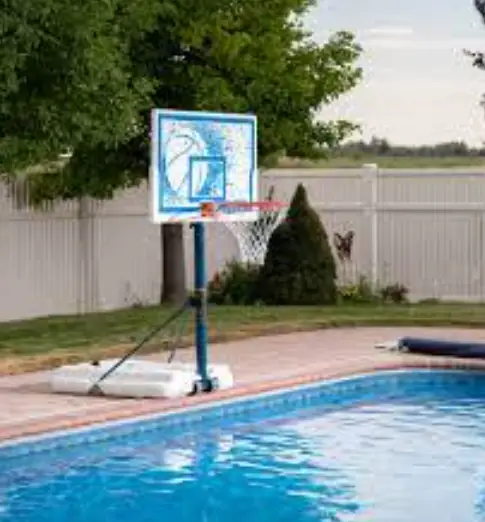 The Lifetime 44-Inch Poolside Impact is a great choice for any backyard basketball enthusiast. This highly adjustable backboard allows you to easily adjust the height of the rim from 4 feet up to 6.5 feet, making it ideal for players of all ages and sizes. The durable plastic construction ensures that this backboard can withstand the elements, while its bright retro design will look great in any outdoor setting.
You can easily relocate this hoop thanks to its convenient wheel system. This fun outdoor activity won't break your budget – you can find it at DICK's Sporting Goods for only $249.99! So if you're looking for a versatile and attractive hoop that everyone in your family can enjoy, check out the Lifetime 44-Inch Poolside Impact today!
Dunnrite Splash and Shoot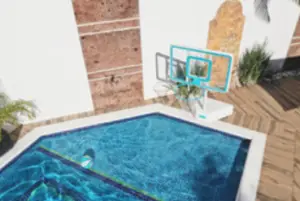 The Dunnrite Splash and Shoot is an adjustable basketball hoop that can be used on any standard rim up to 56 inches . This product is made from rust-resistant stainless steel and has durable construction for outdoor use. This product makes it easy for users of any age or experience to adjust the height of the basket quickly and easily.
With its superior design, this hoop is an excellent choice for shooting practice or recreational play. Not only does it offer plenty of opportunities for fun, but it also comes at an affordable price tag , which makes it a great value purchase.
The backboard is designed with clear acrylic, so you can see your shots going in more clearly than ever before. In addition, this product also includes padding around the lower rim pole so you can avoid injuries while shooting baskets with friends and family!
Floating Or Poolside Hoop- Which Is Better?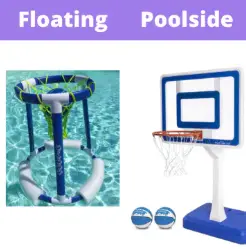 Poolside hoops offer a classic game feel while providing stability and accuracy. The stable backboard is usually made with durable all-weather materials, which ensures that your shots will be true whether you're playing in rain or shine. As a bonus, it's easy to adjust the height of the goal if more than one person is playing so everyone can join in on the action!
On the other hand, floating hoops might be right up your alley if you want something more adventurous and unpredictable! Floating basketball hoops offer the same feel as a poolside model but feature a simple design that allows them to be played on any surface. Floating hoops are great for adventurous players who want to shoot from the comfort of their bed or camp out at the beach!
Pool basketball hoops can be a great way to get out and have fun in the sun. Whether you are looking for a little exercise or just a way to entertain the kids on a hot summer day, these hoops are sure to bring hours of enjoyment. Not only can they provide a physical outlet, but they can also promote social interaction between friends and family members. Pool basketball hoops come in various sizes and styles, so you should have no trouble finding one that suits your needs.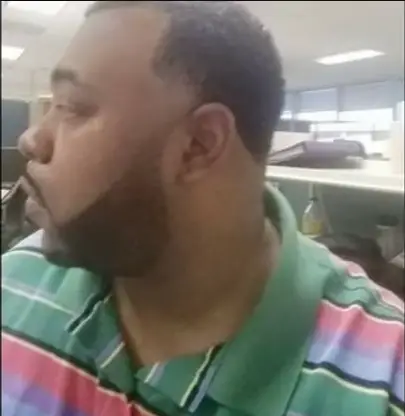 Clyde Jackson III is a basketball coach and the founder of GCBC Basketball, a basketball-related learning and informational website that focuses on helping young players develop their skills on and off the court. With over 15 years of coaching experience, Clyde has worked with players of all ages and skill levels, from beginners to professionals.