It can be tough to figure out what to do with an old basketball hoop you no longer need or want. It has plenty of creative uses if you have an outdated hoop taking up space in your yard or garage. From repurposing the net and rim to crafting unique decorations, there is no shortage of ideas for finding a new use for your old basketball hoop.
Different Ideas To Use Old Basketball Hoop: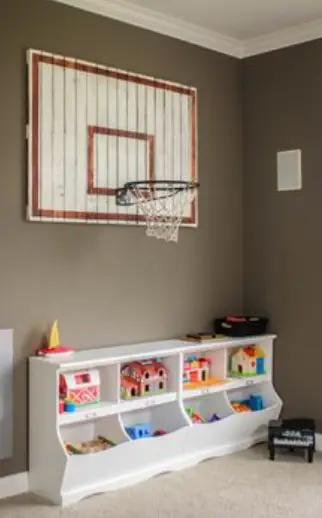 Recycle Your Old Basketball Hoop: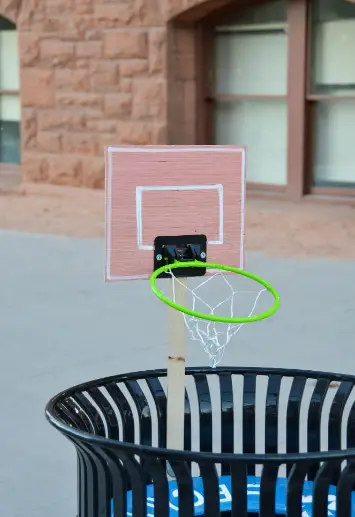 Much like any other outdoor equipment, a basketball hoop can be repurposed or recycled depending on its condition. One popular option for recycling your old basketball hoop is to donate it to a non-profit organization or charity in need. Many homeless shelters, after-school programs, and youth centers rely on gently used sports equipment donations to provide their clients with recreational activities. Donating your old hoop can help these organizations with limited resources and ensure that it gets used.
Up-Cycle Your Old Basketball Hoop:
There are many creative ways to repurpose an old basketball hoop and turn it into something useful and fun.
Create A Play Area:
You can create a play area for children by painting the backboard with bright colors and transforming it into a chalkboard or canvas. This can be used as an area where kids can express their creativity through art or use it for imaginary play.
Use As Decoration: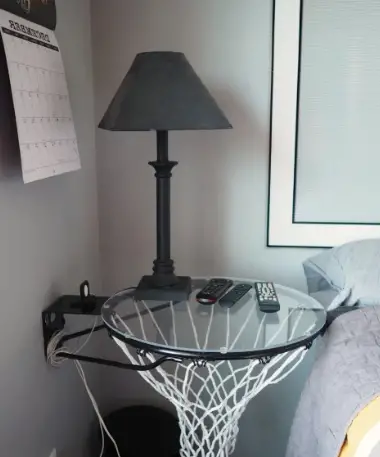 A great way to breathe new life into an old basketball hoop is by painting it with bright colors. You can even get fancy and create a custom mural on the backboard. This will make for an eye-catching piece of art you can hang inside or outside your home. If you're feeling extra creative, consider adding some lights around the backboard or decorating the rims with ribbons or other materials.
Make A Planter: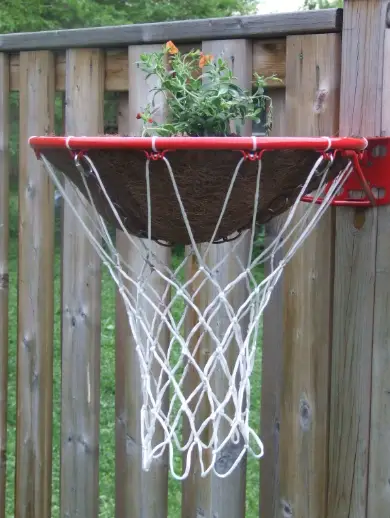 All you need is a planter pot, soil, plants, and maybe a few paint supplies.
Remove the net from the hoop, then Clean any rust with sandpaper or steel wool. Use paints to give the rim a fresh look before attaching it to the planter pot of your choice. Then fill the planter with soil, add some plants of your liking, and voila! You've got yourself a beautiful homemade planter for your garden or patio.
Create A Pot Rack:
One great project idea is turning the old hoop into a pot rack. By affixing some hooks and mounting the hoop onto your wall, you can create an eye-catching storage solution perfect for keeping all your pots and pans within easy reach while also using the iconic shape of the basketball hoop.
Remove the backboard from the frame and sand down any rough edges. Once everything is smooth, cover the frame with a rust-proof paint or powder coating. Then attach hooks to either side of the frame for hanging pots and pans. You can also add additional hooks at various heights on the sides if desired.
Use It As A Shoe Rack:
It's a great way to organize the shoes in your entryway or mudroom while adding unique style and texture to the space. All you need are some brackets, screws, and other simple hardware supplies that can be found at any home improvement store. Attach shelves onto each side of the hoop for storing all sorts of footwear, from running shoes to sandals. It's an easy project that won't take much time or money – yet it will still yield big results when you're done!
How Long Do The Basketball Hoops Last?
The lifespan of a basketball hoop depends on the type of hoop and the material it's made from.
Portable Basketball Hoops:
The average lifespan for Portable basketball hoops ranges from 3-5 years depending on usage and weather conditions like sun exposure or hail storms. To ensure your hoop lasts as long as possible, cover it when not in use and store it away during inclement weather.
In-Ground Hoops:
In-ground hoops are typically more expensive than portable or adjustable ones, but they last longer because they stay in one place and don't have to withstand frequent movement or wear and tear. Depending on usage conditions, most in-ground systems will last five to seven years before needing replacement parts or a full system overhaul.
Is There Any Technical Standard For A Basketball Hoop?
Yes, there is a technical standard for a basketball hoop. The median size and height of a basketball hoop vary depending on the game level being played, whether it's professional or recreational. To ensure that each game follows its rules, all hoops must adhere to specific standards set by various governing bodies such as FIBA (International Basketball Federation) and NCAA (National Collegiate Athletic Association).
At the international level, a regulation-size hoop should have an 18-inch inner rim diameter with an overall height of 10 feet from ground level to the top of the rim. The distance between both backboards is also standardized to 4 feet wide.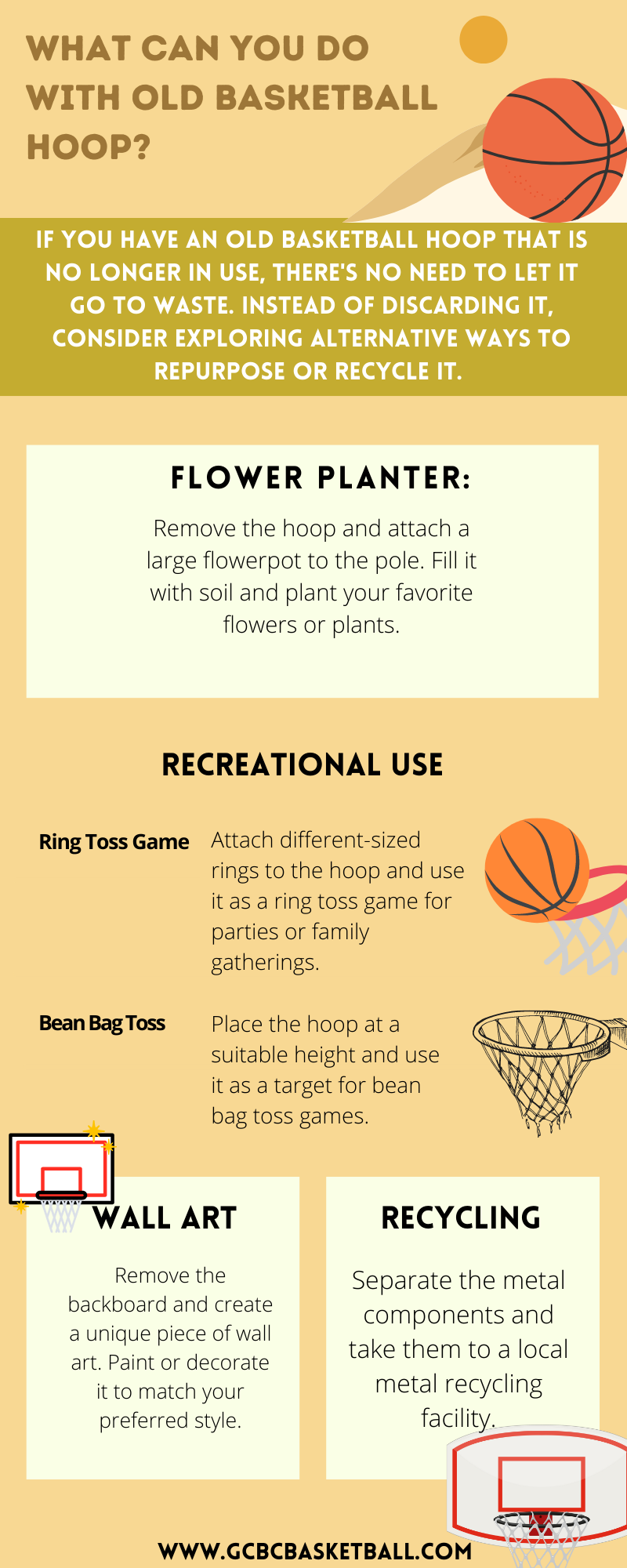 There are many different things you can do with an old basketball hoop. From upcycling it into a storage rack or giving it to a friend to recycling the metal and plastic components, there's something for everyone. Also, repurposing your basketball hoop is environmentally friendly and helps keep it out of the landfill. Whether you choose to donate, recycle, or upcycle your old basketball hoop, you'll be helping the environment in more ways than one!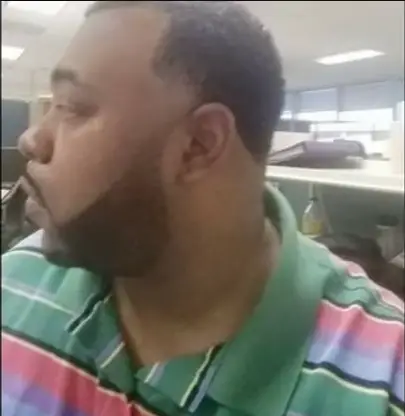 Clyde Jackson III is a basketball coach and the founder of GCBC Basketball, a basketball-related learning and informational website that focuses on helping young players develop their skills on and off the court. With over 15 years of coaching experience, Clyde has worked with players of all ages and skill levels, from beginners to professionals.