You should look for three things in a basketball shoe if you have Achilles tendonitis:
Cushioning

 Lightweight and

Low-Profile Design
Cushioning is essential to protect your Achilles tendon from impact. Look for a shoe with good cushioning in the heel and forefoot.
Arch support is also vital to reduce stress on the Achilles tendon.
A lightweight, low-profile shoe will also help minimize the impact on the Achilles tendon.
Can I Play Basketball With Achilles Tendonitis?

Yes, but there are certain things you need to keep in mind.
First, you need to make sure that your Achilles is properly healed before you start playing again. If it's still painful or swollen, you need to wait until it's better.
Second, you need to wear the right shoes. Basketball shoes should have good cushioning and support to protect your Achilles from further injury.
Finally, it would be best if you were careful not to overdo it. Start slowly and gradually increase your activity level as your Achilles feels better. If you push too hard too soon, you could end up re-injuring yourself.
For basketball enthusiasts and athletes, the thrill of the game often outweighs any physical discomfort they might experience. However, when it comes to Achilles tendonitis, a condition characterized by inflammation of the Achilles tendon, it becomes crucial to prioritize both performance and injury prevention. Achilles tendonitis can significantly impact one's ability to play basketball comfortably, and without proper care, it may worsen over time. Nevertheless, the right choice of basketball shoes can make a world of difference for players dealing with this condition.
Best Basketball Shoes For Achilles Tendonitis:
If you've been playing basketball for a while and are experiencing pain in your Achilles tendon, you may be wondering what type of basketball shoes you should wear. Achilles tendinitis is a common condition among middle-aged and professional athletes, especially those who participate in sports that involve a lot of running and jumping. It occurs when the tendon connecting the calf muscles to the heel bone becomes inflamed due to overuse or injury. For basketball players who has achilles tendinitis a good option would be the "Air Jordan Retro Dub Zero"
Air Jordan Retro Dub Zero
The Air Jordan Retro Dub Zero basketball shoe is widely recognized as one of the most popular and iconic basketball shoes ever created. Its design aims to offer maximum cushioning, stability, and foot support, making it an excellent choice for improving performance and guarding against Achilles tendonitis. I own a pair of these shoes and not only use them for playing outdoor basketball but also wear them casually due to their appealing design. These basketball shoes are constructed with a full-length Air-Sole unit, providing exceptional cushioning and responsiveness. The midsole's shock absorption capabilities help reduce impact during intense activities like rebounding. During testing, I intentionally performed high jumps and hard landings to assess their impact protection, and they performed exceptionally well. The shoes feature a molded rubber outsole, contributing to their durability and excellent traction on the court – a hallmark of Jordan shoes that every basketball player appreciates. The unique lacing system of the Air Jordan Retro Dub Zero ensures a secure fit and lockdown feel, preventing the foot from slipping inside the shoe. A crucial factor in avoiding Achilles tendonitis.
Pros:
The full-length Air-Sole unit provides a supportive fit suitable for all foot types.

The molded rubber outsole prevents ankle rolling and ensures reliable durability both indoors and outdoors.

The secure lacing system allows for customized tension.

Available in multiple colorways.
Cons:
The shoe may not be as breathable as other basketball shoes.
The right basketball shoe can help prevent this injury and keep you on the court. Our findings show that the best basketball shoes for Achilles tendonitis are.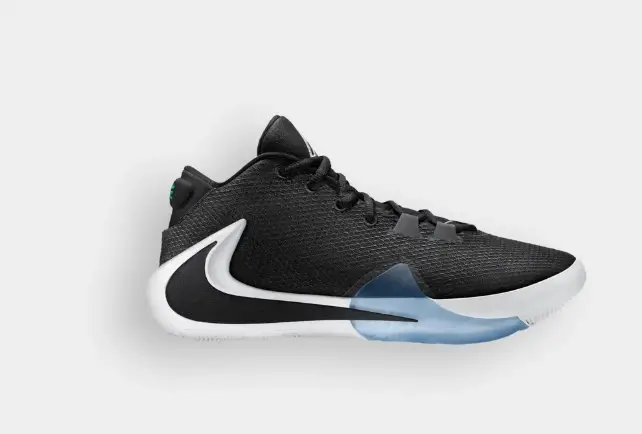 Nike Men's Zoom Freak 1 basketball shoes are the perfect choice for anyone suffering from Achilles tendonitis. These shoes provide excellent support and cushioning, which helps to protect the Achilles tendon from further injury. They also have a special design that helps to distribute weight evenly throughout the foot, which reduces stress on the Achilles tendon.
The Nike Giannis Immortality basketball shoes offer a perfect blend of style and function. The Flyknit upper material provides a supportive and breathable fit, allowing for greater flexibility and natural foot movement. The full-length Zoom Air cushioning unit delivers excellent responsiveness and impact protection, minimizing strain on the Achilles tendon. The unique lacing system and mid-to-high-top design further enhance ankle support and stability, ensuring players can make quick cuts and changes in direction with confidence.
Pros
Foot-conforming Flyknit upper material makes give these a supportive fit

Incredible traction offers multidirectional grip

Perfect combination of style and function
Cons
Some players may not like the low high-top design

Require long break-in period
The Reebok Shaq Attaq Retro Basketball Shoes are tailored to provide exceptional protection against Achilles tendonitis. The shoe's upper part, made from synthetic and leather materials, offers excellent breathability and durability, making them suitable for outdoor play. The padded tongue and collar ensure optimal cushioning and comfort, while the pump feature provides additional customized cushioning around the foot. The lightweight EVA foam midsole and high-quality rubber outsole contribute to stability, traction, and overall support on the court.
Pros
Ultra high-top design provides exceptional Achilles support and protection against ankle twists

Old-school pump feature for extra cushioning

Textile and synthetic materials offer breathability

Orthopedic sockliner improves lateral movements

Funky retro designs available
Cons
Tongue is bulky due to the pump

Hard to get an exact fit every time with the pump feature
Under Armour 3Z6 Basketball Shoes
The Under Armour 3Z6 basketball shoes are a top-rated choice, offering great heel and ankle support for players seeking relief from Achilles tendon pain. The mesh upper design provides a lightweight fit, enhancing speed and agility. The foam midsole features Charged Cushioning and Micro G technologies, offering responsive cushioning and protection during high-impact activities. The full-length Pebax plate ensures the foot remains centered on the footbed, reducing strain on the Achilles tendon and promoting stability.
Pros
Mesh upper gives these a lightweight design to add speed

External heel counter is unique to this shoe and provides good support

Five colorways available

Low-profile design is built for speed
Cons
Not as much Achilles support as others

Not suitable for players with wide feet
Adidas ADIZERO Rose 1.5 RestoMod
The Adidas ADIZERO Rose 1.5 RestoMod basketball shoes feature a simple yet effective design, making them an excellent choice for players with Achilles tendonitis. The engineered mesh upper with an internal bootie provides a snug and breathable fit, keeping the foot in place during intense play. The full-length TPU plate adds extra security and stability to the shoe, minimizing strain on the Achilles tendon. The PureMotion outsole delivers strong grip and the wide lace system ensures additional support.
Pros
Internal bootie gives this basketball shoe a superior fit

Mesh upper is breathable yet strong to provide ankle support

TPU plate adds security to a very comfortable fit

PureMotion outsole for a strong grip

Wide lace system for extra support
Cons
Only available in one color

The midsole is a bit stiff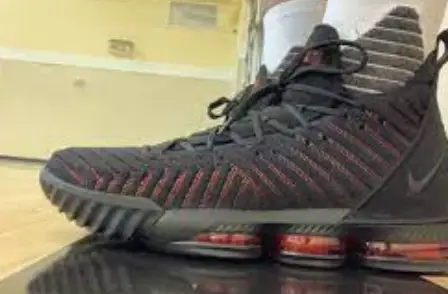 The Nike Lebron XVI is yet another great option. These shoes feature a thick heel counter that helps to stabilize the foot and prevent excessive pronation, as well as a comfortable fit that won't put too much pressure on the Achilles tendon. Additionally, the LeBron XVI's have excellent traction and cushioning, making them ideal for playing on any court surface. 
Under Armour Clutchfit Drive Ii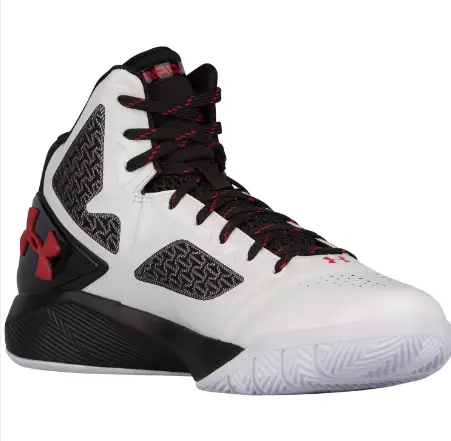 If you're looking for budget-friendly sneakers that offer Achilles support, the Under Armour ClutchFit Drive II is a great option. These shoes are designed with a heel counter that helps stabilize the foot and ankle and feature a cushioned midsole for added comfort.
Under Armour Men's UA ClutchFit™ Drive 2 Basketball Shoes
Updated UA ClutchFit technology wraps your foot with a lightweight second skin for powerful support & incredible feel
3D molded tongue custom forms around your foot and ankle for an enhanced fit
Full-length molded Micro G sockliner adds cushion & keeps your foot locked in place
The Nike Kyrie 6 is designed for players who need extra support and stability around their ankles. The shoes can help reduce the risk of Achilles tendonitis. The Nike Kyrie 6 also has an outsole specifically designed to protect your Achilles tendon from impact. 
Nike Kyrie 6 Mens Basketball Shoes Bq4630-006
The Nike Air Zoom Turbo unit under the ball of the foot is curved, so it engages underfoot and when you push off your edges. The lightweight foam midsole is soft, supportive, and helps to smooth the heel-to-toe transition.
An adjustable strap crosses over the laces to keep your foot stable over the footbed. The padded collar and heel counter lock in your ankle and help keep it aligned with your foot, so you can generate energy while making hard cuts.
Plush, padded collar gives you a secure, ankle-conforming fit.
Adidas Men's Pro Bounce shoes are a great option for people with Achilles tendonitis because they have a special cushioning system that helps protect the Achilles tendon.
These shoes also have a wide toe box, which allows your toes to spread out and prevents crowding. This can help reduce pressure on the Achilles tendon and prevent further irritation.
What to look for in a basketball shoe if you have Achilles Tendonitis?
When it comes to basketball shoes, there are a few key factors to consider to ensure that you don't make your Achilles tendinitis worse.
When dealing with Achilles tendonitis, selecting the right basketball shoes can make a world of difference in your performance and overall comfort on the court. To alleviate the strain on your Achilles tendon and aid in a swift recovery, keep an eye out for the following crucial features when choosing your ideal pair of basketball shoes:
Cushioning:

Ample cushioning in the midsole helps absorb impact and reduce pressure on your Achilles tendon during jumps and landings.You should look for a shoe that provides good cushioning and arch support. This will help reduce the amount of stress placed on the tendon and help prevent further damage. It is also important to look for a shoe with a wide base to help spread your weight evenly across the foot.

Arch Support:

Proper arch support promotes better foot alignment, reducing stress on the Achilles tendon and providing enhanced stability.

Lightweight and Low-Profile Design

: Opt for shoes that are lightweight and have a low-profile design, as they facilitate agility and lessen the strain on your ankles and Achilles tendon.

High-Top Pattern and Design

: Basketball shoes with a high-top pattern offer increased ankle support, which can be especially beneficial for players with Achilles tendonitis. A high-top design is essential to provide additional ankle support and reduce tension on the Achilles tendon. In fact, a study has shown that high-top shoes can reduce the tension on the Achilles tendon by 9.9% compared to shoes with a low-top design. Additionally, high-top shoes help prevent the ankle from rolling, thus reducing the risk of injury. During a game of basketball, quick movements and changes in direction are common. High-top sneakers offer crucial support to the Achilles tendon and provide stability as the player runs, jumps, and changes directions. Without proper support, the Achilles tendon and ankle become more susceptible to twisting, leading to potential sprains. The high-top design effectively keeps the ankle in place and minimizes the risk of sprains.

Heel Counter:

Look for shoes with a well-structured heel counter to ensure proper foot positioning and minimize unnecessary strain on the Achilles tendon.

Durable Materials

: Shoes made from durable and high-quality materials not only provide long-lasting performance but also maintain their support and cushioning over time.

Flexibility

: Shoes that strike a balance between support and flexibility allow natural foot movement, preventing excessive stress on the Achilles tendon.

Fit:

Ensuring your basketball shoes fit correctly is crucial for preventing additional strain on the Achilles tendon. A proper fit minimizes friction and discomfort during play.

Shoe with Good grip:

Finally, it is important to select a shoe with good grip. This will help you maintain control of the court while playing and prevent slips and falls. If you're playing outdoors, look for a shoe that is designed for outdoor play, as these shoes will have a thicker sole and provide additional grip on slick surfaces.
Common Causes Of Achilles Tendonitis:
Achilles tendonitis occurs when the Achilles tendon becomes inflamed. This can happen due to overuse, incorrect footwear, or a sudden change in activity level. Achilles tendonitis can be very painful and make walking or playing basketball difficult.
Intense Physical Activity

: Achilles tendonitis often occurs due to excessive strain on the Achilles tendon during intense basketball activities. Jumping, running, sudden stops, and pivots can all contribute to the development of this condition.

Improper Footwear

: Wearing improper basketball shoes can exacerbate the risk of Achilles tendonitis. Shoes lacking proper cushioning, arch support, or inadequate ankle stability can put unnecessary stress on the Achilles tendon.

Overtraining

: Engaging in rigorous basketball training without sufficient rest and recovery can lead to overuse injuries like Achilles tendonitis. Rest periods between intense sessions are crucial for allowing the tendon to heal and adapt.

Biomechanical Factors

: Individuals with flat feet, high arches, or abnormal gait patterns may be more prone to developing Achilles tendonitis. These biomechanical factors can alter the distribution of forces on the tendon, leading to increased stress.

Age and Degeneration

: As we age, the Achilles tendon may experience degenerative changes, making it more susceptible to injury. Middle-aged and older basketball players may face a higher risk of tendonitis due to these age-related factors.

Sudden Increase in Activity

: Rapidly increasing the intensity or duration of basketball activities can strain the Achilles tendon beyond its capacity, triggering inflammation and pain.

Previous Injuries

: Individuals who have previously experienced Achilles tendon injuries or have a history of lower limb issues may have a heightened risk of developing Achilles tendonitis.

Inadequate Warm-Up

: Failing to properly warm up before basketball sessions can leave the Achilles tendon insufficiently prepared for the demands of the game, making it more susceptible to injury.
Symptoms of Achilles tendonitis include pain and tenderness along the back of the leg, above the heel; stiffness and decreased range of motion in the ankle; and swelling in the area.
Tips To Avoid Achilles Tendonitis:
You can do several things to reduce your risk of developing Achilles tendonitis.
First, warm up properly before participating in any physical activity.
Wearing shoes that provide good support and cushioning will also help protect your Achilles tendon from injury.
If you begin to experience pain in your Achilles tendon, rest and icing the affected area can help reduce inflammation.
Here are some more tips to follow to avoid Achilles Tendonitis:
Proper Foot Support

: Choosing basketball shoes that offer excellent arch support and cushioning can help reduce the strain on the Achilles tendon during intense gameplay. Look for shoes with built-in technology designed to provide optimal stability.

Heel Counter Design

: A well-structured heel counter in basketball shoes can aid in maintaining proper foot alignment and reducing excessive stress on the Achilles tendon. Seek out shoes with reinforced heels for added protection.

Shock Absorption

: Shoes equipped with effective shock absorption features can help lessen the impact on your Achilles tendon while jumping and landing. This can be particularly beneficial for players engaged in high-intensity play.

Flexibility and Range of Motion

: Basketball shoes that offer a balance between support and flexibility enable natural foot movement, which can reduce strain on the Achilles tendon during quick changes in direction and abrupt stops.

Fit and Sizing

: Ensuring your basketball shoes fit correctly is crucial in preventing Achilles Tendonitis. Avoid shoes that are too tight or too loose, as an ill-fitting pair can contribute to tendon stress and discomfort.

Gradual Intensity Increase

: Whether you're a professional or a recreational player, gradually increasing the intensity and duration of your training sessions can prevent sudden strain on the Achilles tendon, reducing the risk of injury.

Proper Warm-up and Stretching

: Always prioritize warming up before playing and engage in dynamic stretches that target the calf and Achilles area. This helps improve blood circulation and prepares the muscles for the demands of basketball.

Listen to Your Body

: Pay attention to any discomfort or pain in your Achilles tendon. If you notice persistent symptoms, it's essential to rest and seek professional medical advice before returning to the court.
What shoes should you wear with Achilles tendonitis?
 For Achilles tendonitis, it's best to wear basketball shoes with good cushioning, arch support, and a high-top design to provide stability and reduce strain on the Achilles tendon. Look for shoes that fit well and offer proper ankle support.
What support is best for Achilles tendonitis?
The best support for Achilles tendonitis includes proper footwear with good cushioning and arch support. Additionally, using orthotic inserts, performing stretching and strengthening exercises, and avoiding activities that aggravate the condition can be beneficial.
Can wearing basketball shoes help with Achilles Tendonitis?
Yes, wearing basketball shoes specifically designed for Achilles tendonitis can help by providing better support and cushioning for the affected area. Look for shoes with extra heel padding and proper arch support to alleviate pressure on the Achilles tendon.
Is it okay to play basketball with Achilles tendonitis?
Playing basketball with Achilles tendonitis can exacerbate the condition and lead to further injury. It's crucial to rest and allow the tendon to heal properly. Consult with a healthcare professional before resuming any physical activity.
What worsens Achilles tendonitis?
Activities that involve repetitive strain on the Achilles tendon, inadequate footwear, sudden increase in intensity or duration of exercise, and improper training techniques can worsen Achilles tendonitis. Ignoring early symptoms and not allowing sufficient rest can also make the condition worse.
How do NBA players deal with Achilles tendonitis?
 NBA players deal with Achilles tendonitis through a combination of rest, ice, physical therapy, and proper footwear. They may also use orthotics or heel lifts for additional support and consult with medical professionals for treatment and management.
How often should I replace my basketball shoes if I have Achilles Tendonitis?
It's generally recommended to replace your basketball shoes every 6-12 months, depending on how frequently you play and the condition of the shoes. Regular replacement ensures optimal support and cushioning, which is crucial for managing Achilles tendonitis.
How do I prevent Achilles Tendonitis while playing basketball?
To prevent Achilles tendonitis, you should warm up adequately before playing, engage in proper stretching routines (especially for calf muscles), wear basketball shoes with good support and cushioning, and avoid overexertion. It's essential to listen to your body and rest when needed.
Are High Top Shoes Better for Achilles?
As the right footwear can significantly impact an individual's performance and overall comfort on the court. 
Choosing the right basketball shoe is important if you are suffering from Achilles tendonitis. There are many factors to consider when making this decision, including the type of injury, the severity of the injury, and your personal preferences. Ultimately, it is up to you to decide what shoe is best for you. Still, it is important to consult with a doctor or other medical professional before making a final decision.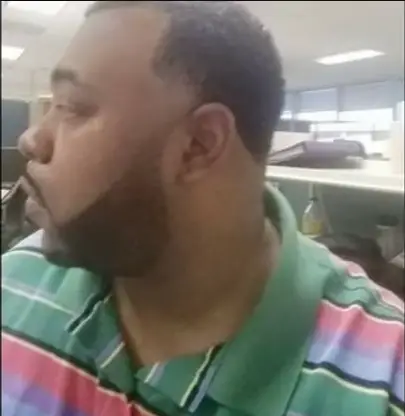 Clyde Jackson III is a basketball coach and the founder of GCBC Basketball, a basketball-related learning and informational website that focuses on helping young players develop their skills on and off the court. With over 15 years of coaching experience, Clyde has worked with players of all ages and skill levels, from beginners to professionals.